Description: Pendulum - STEAM LAB - mechanical model for assembly - veneer - 92 elements - Ugearsmodels 70133
Educational mechanical model consisting of92 elements, which after self-assembly forma pendulum- the most basic and reliable mechanism for measuring time. The set also includesa pocket guideexplaining how the mechanism works, presenting the history of the creation of the pendulum and containing interesting activities. The model is also compatible with theUgears ARapplication. It does not containelectroniccomponents, and the elements move thanks to the appropriate placement of arubber band. The principle of operation of the pendulum is very simple - it is based on the use of a constant amplitude of oscillation, which results from the influence of gravity (mass) and potential energy (force of elastic band tension). The model also contains a screwed gear wheel. The package contains sheets ofveneer(plywood), from which it is sufficient to press out thefinished elements, and then combine them according to the illustrated instructions included in the kit. Noglueor additionalassemblyparts are required to assemble the model. Assembly is very simple and takesbetween 1 and 2 hours.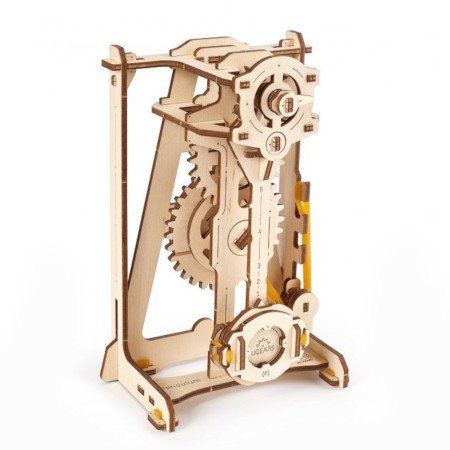 The model is compatible with the Ugears AR application that allows you to immerse yourself in virtual reality and learn the secrets of the mechanism.
Technical specification of the set
Model: pendulum - STEAM LAB
Type: mechanical model
The model designed for self-assembly without glue
Precisely cut out elements using a laser method
Elements set in motion with a rubber band
Compatible with theUgears AR application
Language of instruction: UKR, ENG, DEU, FRA, POL, SPA, ITA, RUS, JAP, KOR, CHI
Material of construction of elements: veneer (plywood)
Number of elements: 92 pieces.
Assembly time: 1 to 2 hours
Model dimensions: 110 x 80 x 170 mm
In our offer you will also find other proposals of mechanical models fromUgearsmodels.