Product description: FORBOT Soldering Master kit + Soldering station 2in1
The "SolderingMaster" kit is a package that includes items that allow you to perform exercises from the popular FORBOT soldering course. The set includes:
Necessary basic workshop tools,
Soldering station with a soldering tip and hotair,
Electronic components,
A set of circuit boards to learn how to solder.
The set includes: third hand type holder with a magnifying glass, tin, flux, pliers, suction nozzle, and braid. The main element of this set is recommended soldering station and hotair WEP 878A with total power 700 W and smoothly regulated temperature of soldering tip from 200°C to 480°C and hotair from 100°C to 480°C. The set is compliant with the specifications of the Laboratories of the Future program.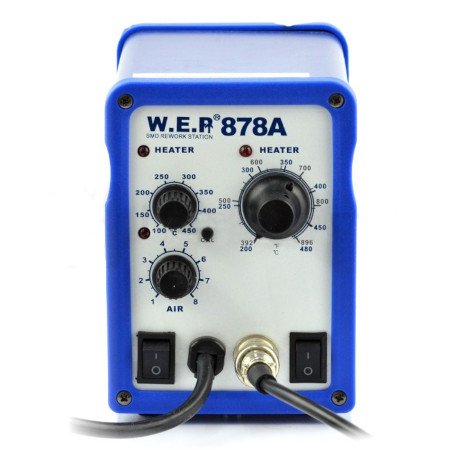 WEP 878A soldering station 700 W.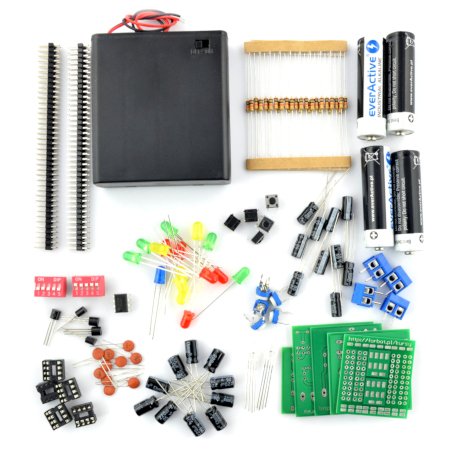 Components included in the set.
The composition of Forbot set
In addition, the set includes a set of 5 printed circuit boards with the necessary elements that allow you to learn how to solder in practice. How to assemble each circuit has been thoroughly discussed in the course, where you can find descriptions, photos, illustrations and films.
The "Soldering Master" set consists of the following products:
The "Soldering Master" set includes all of the above mentioned products in their original, separate packaging. Additionally, there are codes in the sets, thanks to which you can
confirm the originality of the products,
receive notifications about new products and course updates,
get access to additional materials and faster help on the forum.