Product description: Ansible course - task automation in practice
A course teaching techniques for automating tasks with Ansible. Running on Unix family operating systems, Ansible software is used to deploy, configure and manage tasks. It can also be used to work on Microsoft Windows and macOS systems. Ansible is an invaluable tool for admins and DevOps - engineers who bridge the worlds of programming and administration - and the key to efficient, automated work. Basic level course.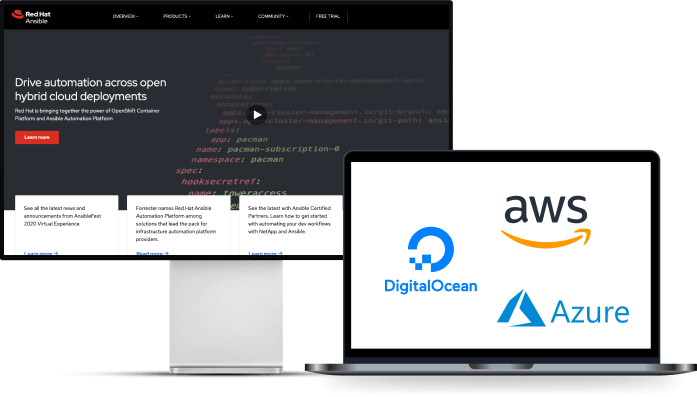 Attention.
You will receive the download instructions and code from us to the address you provided when placing your order
email address provided during the order process no later than the next business day after receipt of payment.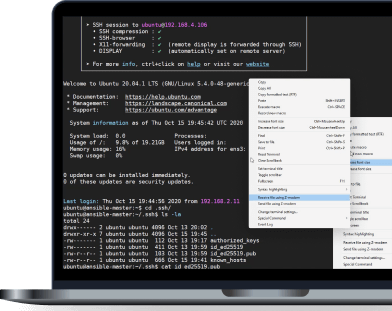 Overview of the course content
Ansible configuration step by step
Automation of configuration and simple system installation
YAML syntax
testing and scaling scenarios
automating network device configuration
differences between ad_hoc and playbook
techniques for working with Ansible playbooks
What is Ansible?
Ansible is an open-source tool for software development, configuration management and application deployment. It allows you to create infrastructure as code. It runs on many Unix-like systems, but Windows and macOS are no obstacle either. Ansible is agentless, temporarily connecting remotely via SSH or Windows Remote Management (remote PowerShell) to perform its tasks. It includes its own declarative language for describing system configuration.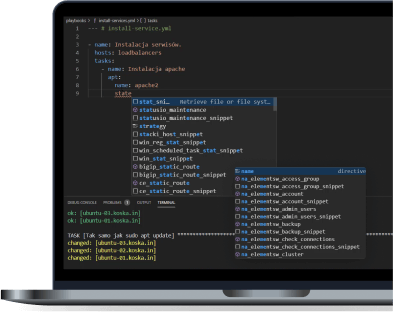 Application of security features
The Active Directory domain is a critical service for many companies and requires proper management of security systems. All administration is prevention, response, monitoring, and reaction. A good administrator needs to know how to properly secure the site and keep it running properly without interruption. The course discusses the tools necessary for this, including the use of Active Directory Recycle Bin, snapshots and backups. Defragmenting your database to optimize its performance is also covered.
Start with the basics
To get the most out of the course, you'll need a basic understanding of the Linux environment, knowledge of basic networking and server issues. Other online courses you can supplement your knowledge with are:
You can add the recommendations you get to your LinkedIn profile or supplement your resume with them.
Course highlights
Unlimited access, including 24/7 mobile access
6 hours of training
Tests and assignments
41 lectures
20 test questions
Certificate of completion
Table of contents
Introduction
Introduction 02m 16s
How to use the materials? 03m 09s
What should you know? 01m 53s
About Docker 03m 43s
Ansible configuration - start
Ansible installation 04m 39s
Ansible in Ubuntu 20.04 with python 3 09m 20s
Ansible Introduction and Architecture 08m 17s
Connecting with Visual Studio Code 06m 06s
Working with Git repository 06m 22s
Preparing our ansible - inventories 12m 31s
Development environment 02m 02s
Dev.yml inventory 16m 53s
Adding SSH key 06m 28s - see free lesson
Configuration file - ansible.cfg 10m 19s
Ansible configuration - summary 02m 34s
Ansible the king of automation
Ping pong 10m 33s
Tasks 17m 21s
Zero one world 06m 15s
Ad-hoc Command exercise 12m 42s
Collecting information about our system 09m 09s
Ansible Playbooks
Playbooks - introduction 17m 30s
Cataloging playbooks 04m 27s
Playbooks - First exercise 10m 07s
Fork Playbooks 04m 57s
Playbook in action 06m 54s
Creating a system 19m 20s
Verifying the previous step 03m 36s
Modernizing our playbook 06m 17s - see free lesson
Transferring files 09m 50s
Lineinfile modification 06m 36s
LoadBalancer configuration 18m 53s
Additional verification with lynx 02m 00s
Set handlers 12m 36s
Playbook import 19m 19s
Playbook summary 03m 45s
Variables, Roles and other aspects
Variables in ansible 14m 24s
Variable dictionary 06m 26s
Registering variables 05m 44s - watch the free lesson
Roles 12m 11s
Creating your own role 10m 39s
Finishing